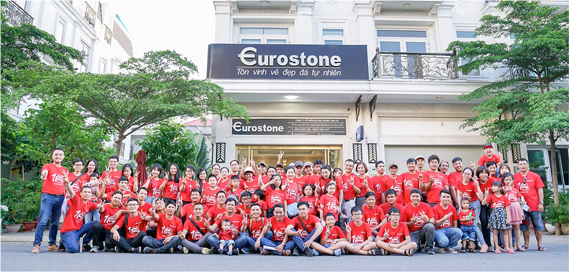 Established in 2010, Eurostone is a supplier, processing all quartz products with many different designs. In particular, we have our own factory, which is equipped with modern equipment from famous brands such as Breton and Folow, specializing in processing products by size, edge and surface treatment according to the needs of each customer. Some of the products we have been making such as: Dining Table, Tea Table, Kitchen Island, Kitchen Counter top, Vanity top, etc.
"To create a beautiful, luxurious and classy building - using artificial stone, natural stone is a perfect choice".
If you are looking for paving stone products for your kitchen island, vanity top, or countertop, ... We are honored to serve you!
At Eurostone, we provide a lot of different artificial stone models with a large variety of colors and types to create your elegant and classy projects. Besides, we proudly have our professional consultants and designers, who are equipped with high skills that will surely satisfy even the most demanding customers.
Countertop

14-06-2016

Bàn đá lavabo sử dụng đá granite, đá marble,... tự nhiên cao cấp, nhập khẩu Châu Âu. Cập nhật mẫu...

Vanity top

14-06-2016

Mẫu đá ốp nhà tắm đẹp, hiện đại với đá hoa cương, đá marble tự nhiên cao cấp, nhập khẩu từ Ấn Độ,...