Summary Of Trending Table Quarzt Patterns In 2021
Table quartz has become a trend chosen by many customers to use as well as highlight the modern interior space. Quartz with aesthetic value, high durability, good waterproofing deserves to be the perfect choice for your kitchen.
Quartz countertops are man-made stone countertops formed by combining about 90% of ground quartz (a naturally hard mineral) with 8 to 10% resins, polymers, and pigments. This forms a very hard granite-like surface. The appearance depends on how the quartz is ground: coarsely ground quartz produces a mottled appearance, while finely ground quartz produces a smooth appearance.
Quartz has become a popular material for many interior decoration items, especially countertops. Here are some advantages of quartz countertops such as:
- High hardness and durable
- Quartz is non-porous, stain and crack resistant
- Quartz does not need sealing or re-welding to protect the stone face.
- Available in multiple colors and styles giving you more options for both monotone textures or colors with more variations.
- Table top can be easily cleaned with mild soap, water and soft cloth.
- Friendly to people and the environment.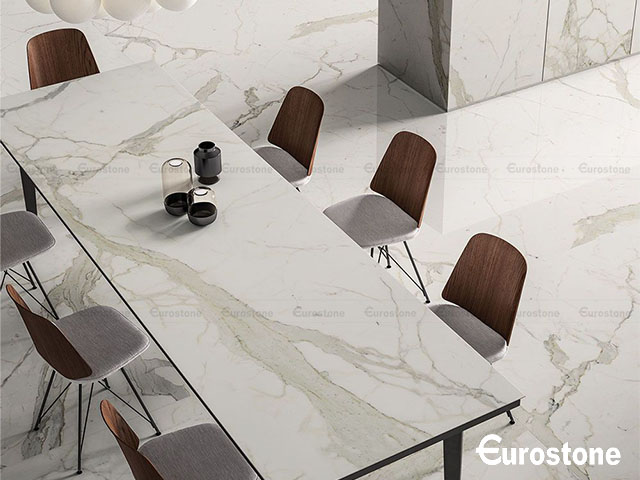 The current stone dining table is composed of two main parts: the table top, the table legs and some other extra parts.
- Table top: there are shapes: square, rectangular, clear, oval, .. flat, seamless texture parallel to the ground.
- Table legs: used to raise the table top with a cylindrical structure with 4 legs at 4 corners or 3 legs at 3 corners and a holder.
- Extra part: the purpose of increasing the table area such as learning cupboards, chopsticks, ..
Standard size includes 2 main lines. 1200mm and 1600mm long:
- Concorde table : 1800mmx900mmx730mm/
- Concorde table : 1600mmx800mmx730mm/
- Concorde Table : 1400mmx800mmx730mm

Standard size rectangular table:
- For 4 people: width 85cm, length 120cm
- For 4~6 people: width 85cm, length 145cm
- For 6~8 people: width 85cm, length 190cm
Oval table size:
- For 4~6 people: Width 85cm, length 135cm
- For 6~8 people: width 85cm, length 170cm
- For 8~10 people: width 85cm, length 200cm
Standard size round dining table:
- For 4 people: about 85~100cm . in diameter
- For 4~6 people, diameter is about 100~130cm
- For 6~8 people:, diameter is about 130~170cm.
We would like to introduce the design of a 1m6 stone dining table, a simple but modern dining table that is suitable for the youthful interior style but also does not take away the cozy feeling in the kitchen.
With the career of designers, you will surely be satisfied and really convinced by our 1m6 stone dining table. Looking simple but not simple, it gives your dining room a modern and polite beauty. Create a comfortable kitchen space for you to enjoy dishes with your family.
1m6 stone dining table with stone surface is designed from high quality quartz stone, has very good bearing capacity, the stone surface is treated with high gloss, scratch resistant, smooth, easy to clean after use. . Table legs made from natural wood are resistant to warping, termites, surface cracks to help you be assured of quality and durability over the years.
With a simple design, the 1m6 stone dining table still exudes sophistication that makes family meals more comfortable and cozy. You can combine with wooden chairs with backrests from 4 to 6 chairs to either side of the table, if the family has few members, wedge to 4 for comfort. The dining table has a neat size with a simple yet sophisticated design that is suitable for kitchen spaces with a moderate area.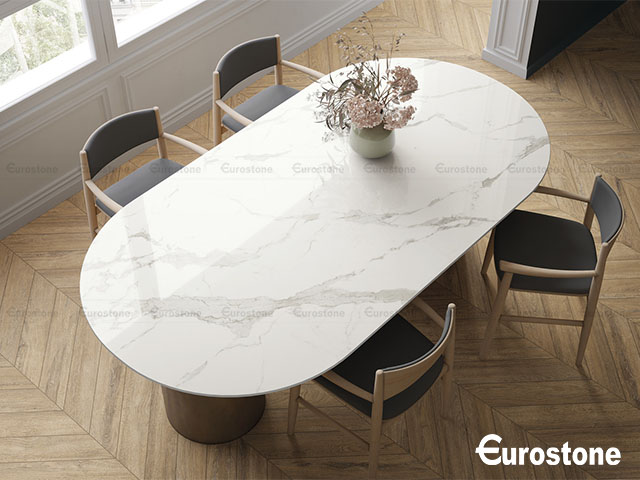 The 1m8 stone dining table is easy to combine with other furniture, decorative items in your kitchen, creating a dining room space that is pleasing to the eyes of your family and guests. This will help you build good relationships with your friends and partners, help family members bond more together. Meals become more fun and cozy than ever.
The 1m8 stone dining table has its own characteristics, so when designing them, they only make a number of different table leg designs, diverse colors for you to choose according to your preferences.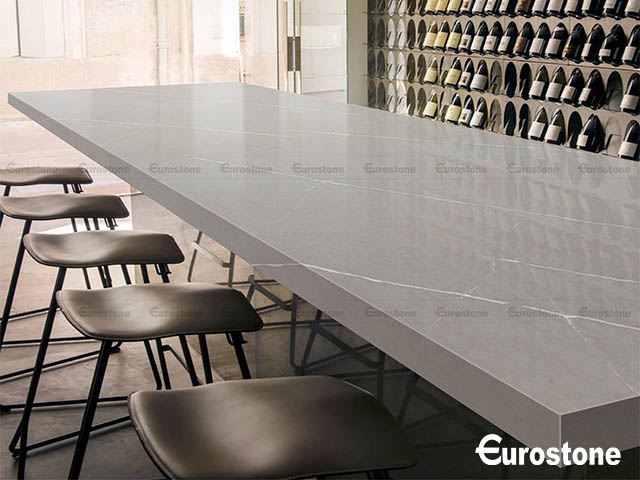 Your family has many members, do you often want to gather close friends to have a meal with your family? You want to invest in beautiful dining table designs for your wedding restaurant? There are many different needs of our customers, that's why we have designed a dining table that meets many needs, which is a beautiful 8-seater stone-top dining table.
Whether at home, restaurant, cafe, .. can use a beautiful 8-seater stone dining table, because it will bring great things to the space where you dine, your guests. You will also be very pleased when you come to your restaurant. Because if you want to create a beautiful space, you must have beautiful furniture to show that space.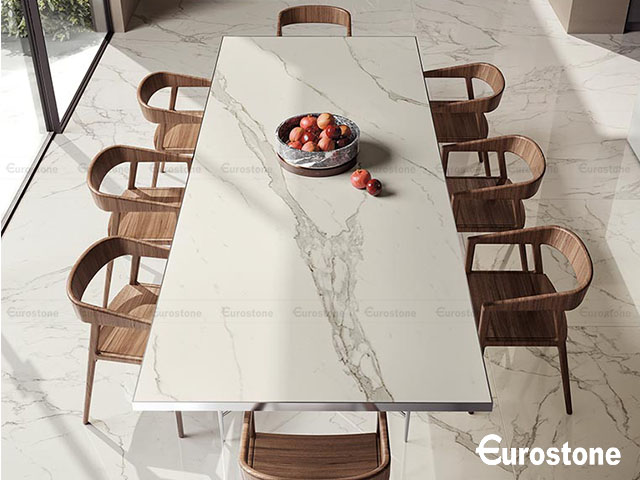 The round dining table style is classic, but today is still the most popular with many families. Because when using them, they bring a sense of closeness to all members of the house. The round stone countertops used are either granite or marble. This is a safe, natural source of raw materials, with gentle colors with impressive lines.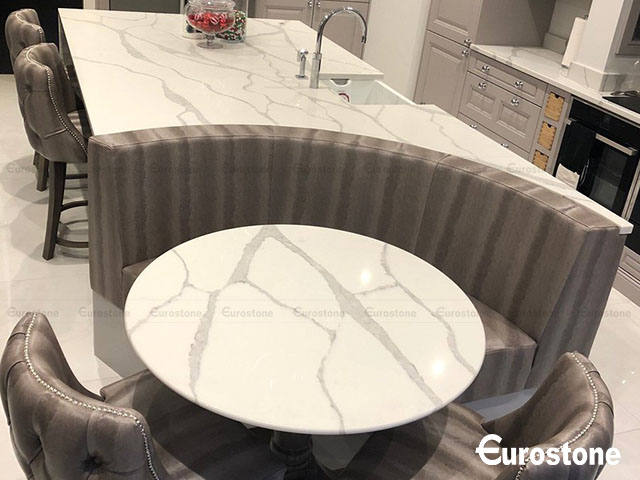 The rectangular stone dining table set with a long design can accommodate a large number of people, which is very suitable for families with many members. On the other hand, with natural stone material, close to bringing a cozy and luxurious dining room space.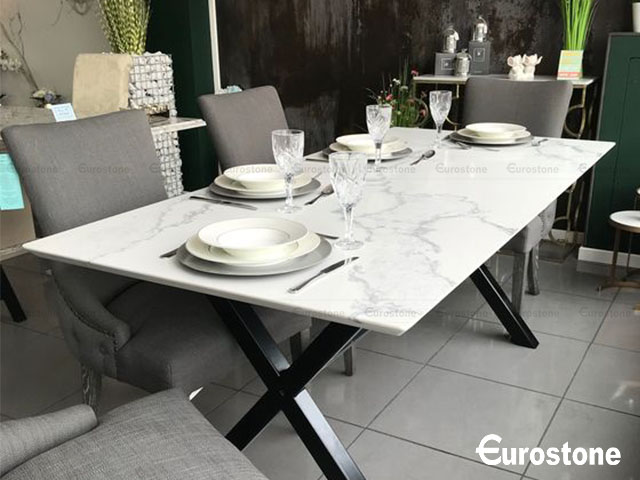 Stone dining table is one of the most popular products, especially oval dining tables.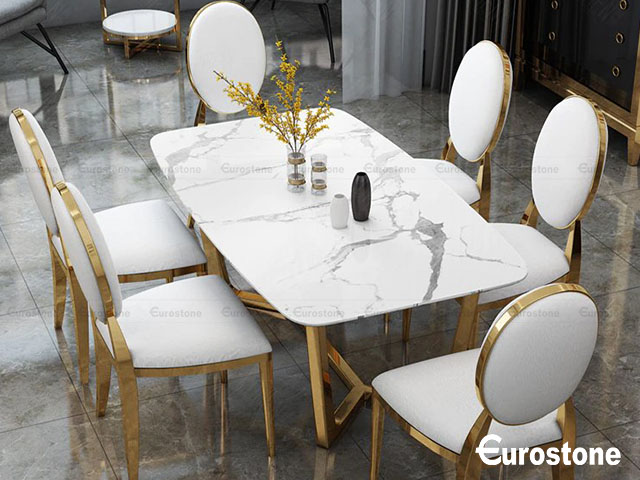 Coming to Eurostone, you will definitely choose a quartz table model that you like and match the design of your home space. At Eurostone, there are many popular types of quartz stone such as Calacatta, Carrara, Small grain, Pure,... Contact Eurostone immediately by hotline +84 903393125 | +84 903393759 to receive advice, support, quotation quickly and accurately best.
See more:
Kitchen Island Quartz - Design your dream kitchen
The Address To Provide Beautiful Countertops Quartz
Synthesis Of The Latest Trending Vanity Top Quartz Models 2021