Calacatta Quartz The PerfeCT Choice For Kitchen Space
Eurostone is a supplier, processing high quality Calacatta quarzt stone products imported from abroad with professional working process. A team of private staff, skilled technicians confidently bring quality products to satisfy even the most demanding customers. Contact hotline +84 903393125, +84 903393759 for free consultation and quote.
Table of contents of the article:​
Calacatta Quartz is the perfect choice for your kitchen with outstanding colors, soft curving lines throughout the surface to bring a luxurious and classy beauty. Quartz Calacatta is suitable for most public and commercial projects with many items such as kitchen tiles, countertops, bathrooms, floors, .... especially suitable for any material, any color.
1. What is calacatta quartz?
Calacatta Quartz is an extremely durable, high-thickness, beautiful veined quartz stone. The powerful, dramatic veins of Calacatta Quartz create a luxurious, inviting feel in any space. In addition, Calacatta quartz is also popular due to its scratch resistance, hardness, high durability, and ease of maintenance and care. Therefore, they are used for many items including bathrooms, kitchens, dining rooms, etc.
1.1 Calacatta quartz slab
Today, the use of Calacatta quartz slabs combined to create a special highlight for the space has become very familiar. Most of the Calacatta quartz slabs available are about 2 - 3 cm thick making it easy to design and install. The thickness can vary depending on where you get the stone and it can also change the price for it.
1.2 Calacatta quartz colors
Calacatta quartz has many different colors but is mainly white with gray-green veins distributed on the stone surface. The ridges are often thick and dramatic. Certain varieties of Calacatta have additional colors such as yellow, black, and brown.
2. Popular Calacatta quartz types?
Calacatta is a quartz stone that has many subtypes that vary in color and veining. Besides, between calacatta models there is a slight difference in gloss and transparency of each type, making it easy for you to choose the right design. Here are some of the most popular Calacatta quartz varieties that are popular today: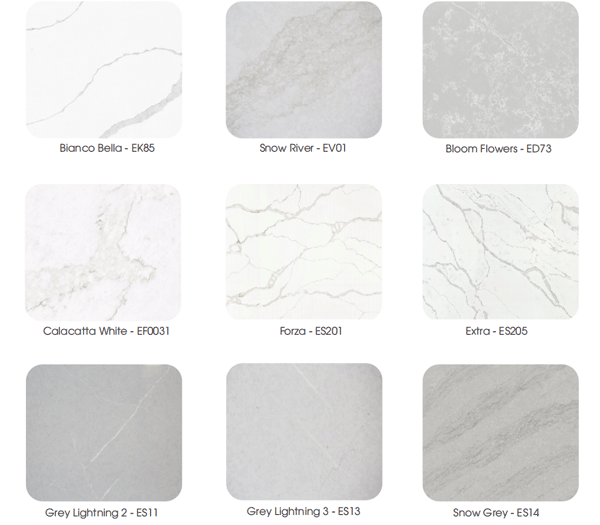 2.1 Calacatta quartz gold
Calacatta gold quartz has a bright white background combined with a gray vein pattern to create a clear contrast. Yellow veins are interspersed with grays on a white Calacatta background. This creates a unique beauty as well as a great highlight for the room.
Calacatta yellow quartz stands out with its elegance and elegance suitable for many different design styles.
2.2 Calacatta quartz white
Calacatta white quartz stands out with its bright, pure white background and wide stone vein, bringing a luxurious feeling to the countertop. Although natural beauty like marble, calacatta quartz white does not have the same disadvantages as them. White Calacatta quartz is scratch resistant, stain resistant and very durable, especially suitable for making countertops for more luxurious space with high aesthetic value.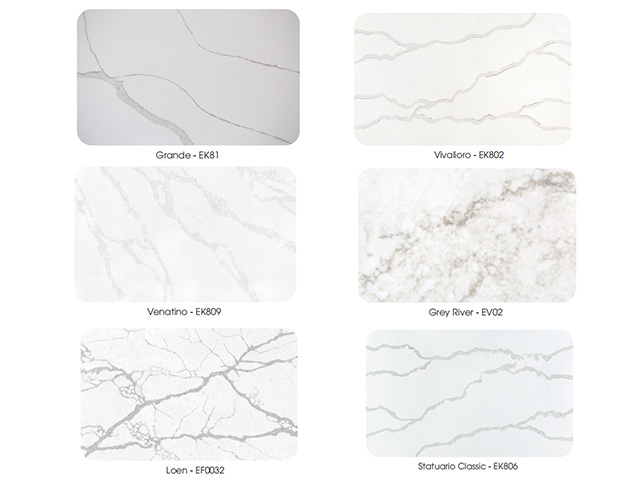 2.3 Calacatta Nuvo Quartz
Calacatta Nuvo Quartz looks like natural Calacatta Marble slabs. This type of quartz stone has wide veins, elegant gray color floating on the milky white background of the stone, making them very unique and luxurious.
2.4 Calacatta black quartz
Calacatta black quartz possesses a mysterious, seductive black color with delicate veins on a luxurious stone background. Black calacatta quartz is applied to many items such as countertop, kitchen island, ... for spaces that need luxury and high aesthetic value.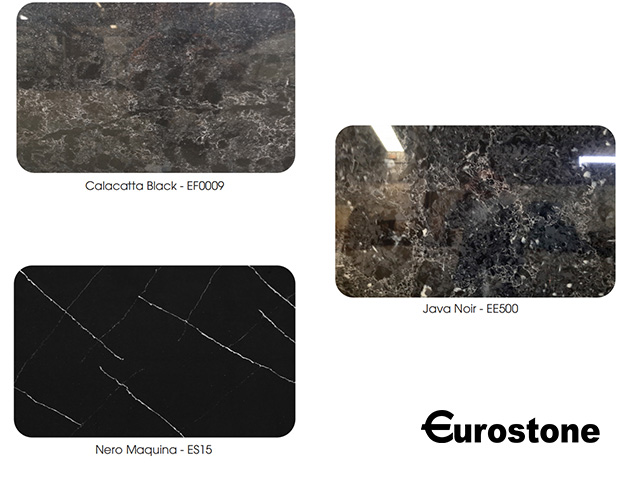 3. Applications of Calacatta Quartz?
Quartz Calacatta is famous for being the most popular and widely used quartz stone line today. In particular, they are used a lot as interior decoration stones for items such as countertops, bathroom tiles, kitchen islands, lavabo tables, .... Here are some outstanding applications of this stone that you can refer to such as: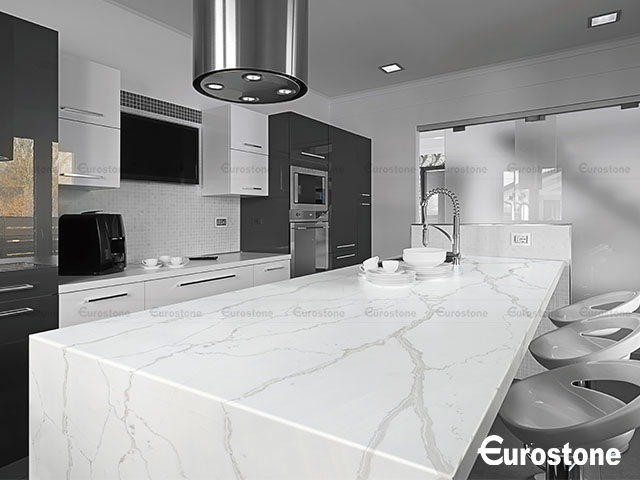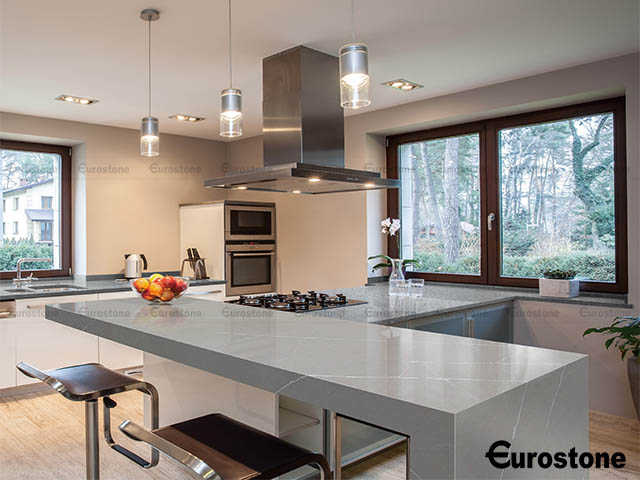 3.1 Calacatta quartz countertops
Calacatta Quartz is a man-made quartz stone, so it is suitable for more design styles than other natural stones. In particular, calacatta quartz counter has become the first choice of many families with its beautiful color, high durability, scratch resistance and easy cleaning and maintenance. In addition, quartz stone can maintain the same high quality and appearance as natural stones but is more cost-effective.
3.2 Calacatta quartz island
Quartz Calacatta is a great choice for your kitchen island space. Because this is a place where it is used a lot, it is very reasonable to choose materials that are both durable and beautiful. Quartz kitchen islands are low maintenance and come in a variety of colors and designs to suit any space. With quartz, you can achieve the goal of an aesthetic and functional space.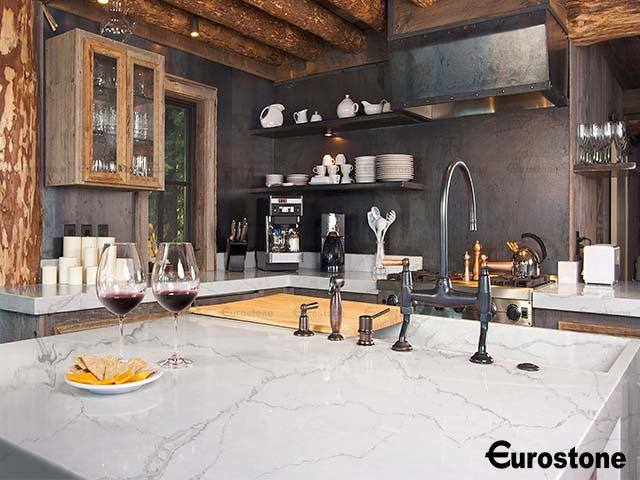 3.3 Calacatta quartz vanity top
Today, lavabo stone countertops have become a familiar choice for every family. In use, Calacatta Quartz not only brings high value of use, durability, cleanliness, and is easy to clean, but also has high aesthetics to bring elegance to the room space.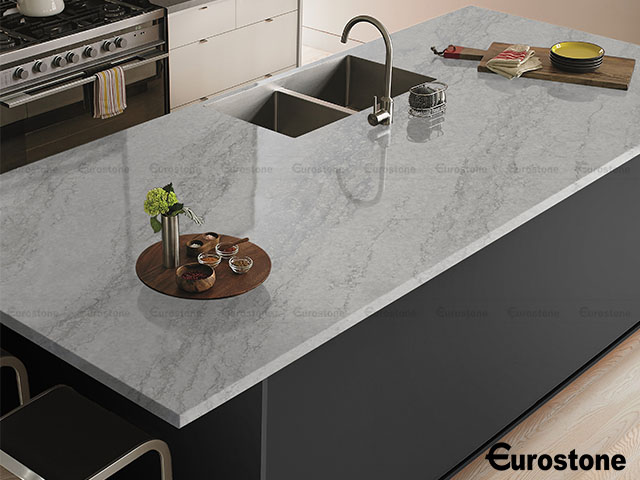 4. Some frequently asked questions about Calacatta quartz stone?
4.1 Calacatta quartz price
Calacatta Quartz usually costs between $60 and $100 per square foot. Large Calacatta quartz panels can cost more. Therefore, depending on the type and thickness, the price of Calacatta quartz can vary.
4.2 Compare Calacatta Quartz vs Carrara Quartz
Both Calacatta Quartz and Carrara Quartz are inspired by natural marble. They have a white, light gray or light beige background, with darker, subtle or bold veins. However, Calacatta and Carrara still have some differences such as:
- Calacatta Quartz has a more dramatic, wider and darker vein than Carrara Quartz. This is the perfect choice for homeowners looking for a strong accent in the kitchen.
- Carrara Quartz has softer, more subtle veins that are very smooth and almost disappear into the background. Some varieties of Carrara quartz are almost greenish gray in color overall. When you place Carrara white quartz and Calacatta quartz slab you will easily notice that the Carrara quartz core is softer, more grainy than the Calacatta.
Calacatta quartz with its delicate and unique beauty combining vivid veins throughout the stone surface is the perfect choice for interior space. In particular, positions such as kitchen, wall cladding, countertops, etc. will surely satisfy you with these luxurious and maintenance-free 2cm, 3cm panels.
5. Prestigious and high quality Quartz stone supplier?
Quartz stone has been and is becoming the choice of many customers. In recent years, there are a lot of stone processing and supplying units sprang up, so choosing a reputable and professional supplier is not easy.
Eurostone is proud to be the first choice of many customers with more than 10 years of experience in providing all kinds of stones. We come to customers with PROFESSIONAL, PRESTIGE. All products of Eurostone meet European quality standards, ensuring safety for users.
Over 10 years of development in the Eurostone industry have gradually learned and researched to be where it is today. We make a difference for ourselves by our professional working process and product quality.
Come to Eurostone to receive quality products of various types at reasonable prices. Contact hotline +84 903393125 | +84 903393759 today for the fastest, most professional advice.