"To create a beautiful, luxurious and classy building - using artificial stone is a perfect choice".
Quartz stone is known as the most luxurious material often used in projects and items that need high aesthetic value. This is an artificial stone created by man for decorative purposes, beautifying space with high durability, waterproof and safe for users.

Today, along with the development of science and technology with modern machines, means and equipment, the mining, processing and application of quartz stone has become easier and more popular.

Eurostone has its own factory equipped with modern equipment from famous brands such as Breton and Folow, which specializes in manufacturing products according to the size, angle and surface treatment according to the needs of each customer. Some products we have been making such as: Dining table, Tea table, Kitchen island, Counter top, Vanity top.

At Eurostone, all products are certified to ensure safety for users. In particular, the warranty period is relatively long from 5-10 years depending on the type of product.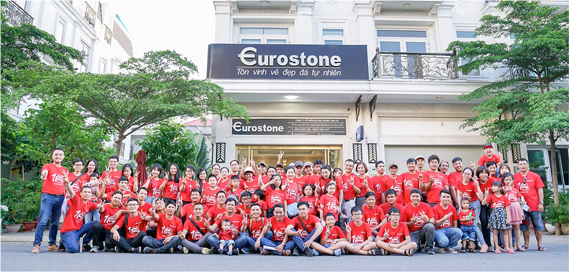 Europe Granite Joint Stock Company is a general supplier of high quality natural and artificial stone products. Eurostone products meet European standards and quality. Eurostone is currently a partner of many world companies in the field of high-end artificial stone.