Kitchen Island Quartz - Design your dream kitchen
Kitchen Island Quartz is becoming a popular choice for many people, both for its versatility and style. Because this is a commonly used space, it is very important to choose materials that are both durable and beautiful. Quartz kitchen island is the perfect choice when it comes to low maintenance, available in a variety of colors and designs. With quartz, you can achieve your goals both in terms of function and aesthetic value.
For the last two decades, granite has dominated the interior decoration of kitchen islands, but this trend is quickly being superseded by quartz. Quartz stone is getting more and more popular with customers because:
1.1 Quartz stone has high aesthetic value
Depending on the manufacturer, quartz can be made to look like Carrara marble, Brazilian granite, or other exotic stones. In particular, quartz stone has almost no limit to color, pattern and texture. Therefore, as long as you have any design ideas you have in mind, you can design your own satisfactory stone slab.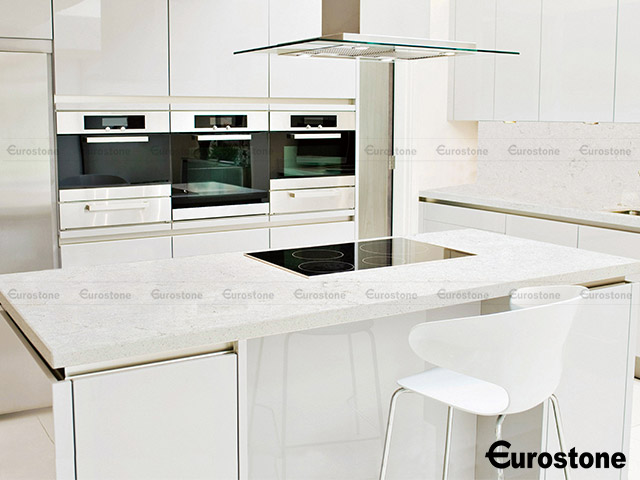 1.2 Quartz has high durability
Quartz stone is considered one of the hardest materials today. High quality quartz is virtually unbreakable. In the United Kingdom, traditional British pubs have been using quartz for decades now.
1.3 Less maintenance, maintenance
Coming to quartz, you do not need to worry about scratches, standing water on the surface, they have very good waterproofing and high durability. You can keep your quartz kitchen island in tip-top shape by keeping it simple. Plus, the countertop is nearly twice as scratch-resistant as granite. Quartz countertops are more hygienic, making them ideal for kitchens.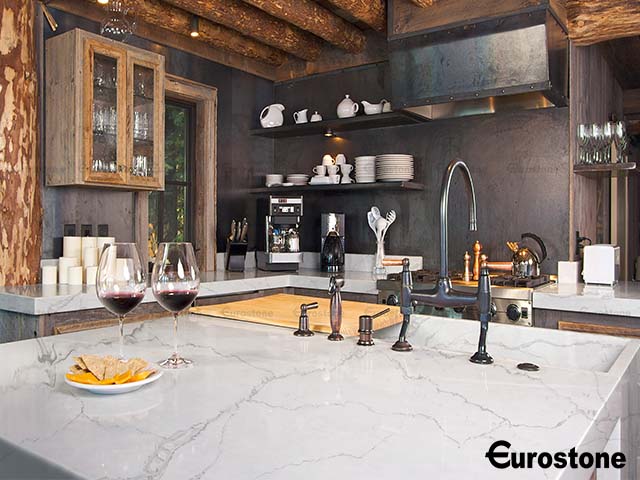 Nowadays, your dream modern kitchen island ideas is no longer a problem. These quartz kitchen island models will help you get ideas for your kitchen space.
2.1 Kitchen island designs in white
White is often known for purity, cleanliness, and clarity. This is one of those kitchen island styles that will never go out of style. White quartz countertops combined with delicate gray veins add depth to the kitchen space.
For the white kitchen island, you can use some types of quartz stone such as Calacatta, Carrara, Big grain, Small grain, ... Bring aesthetic value, optimize the function of the kitchen space.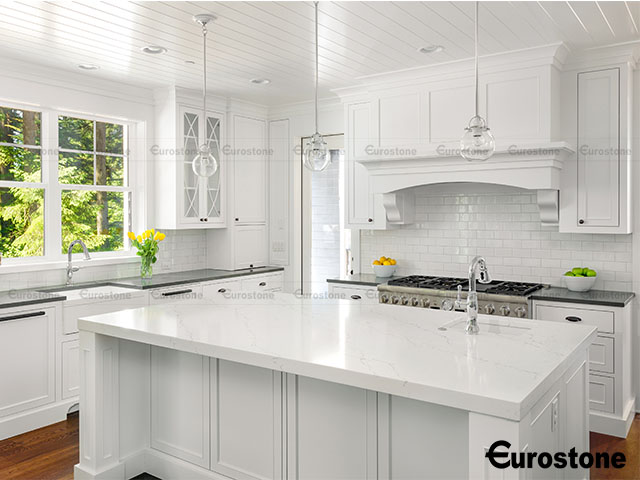 2.2 Contrast quartz kitchen island
One of the best things about the design of the room is the ability to switch the color scheme. In this case, you can choose gray and white countertops to bring eye-catching and dynamism to the space.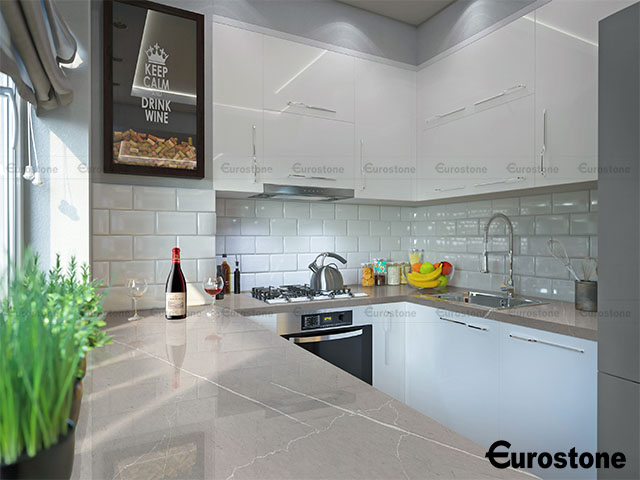 2.3 Monochrome quartz kitchen island
One of the most popular neutral tones in the last few years is gray. Gray has more personality than beige but still allows space to express personal style. Some types of quartz are popular for kitchen island gray such as Calacatta, Carrara, Small Grain, etc. Depending on your choice, choose the stone model you like, suitable for the room space.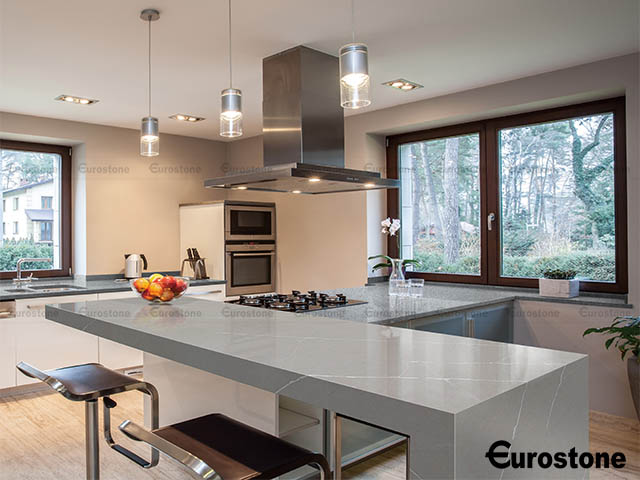 2.4 Kitchen island black
Many people choose the kitchen island design that combines black with charm and elegance. The contrast between the two colors will attract everyone's eyes when seeing the kitchen island. The design is finished with a soft black marble top, vanity top.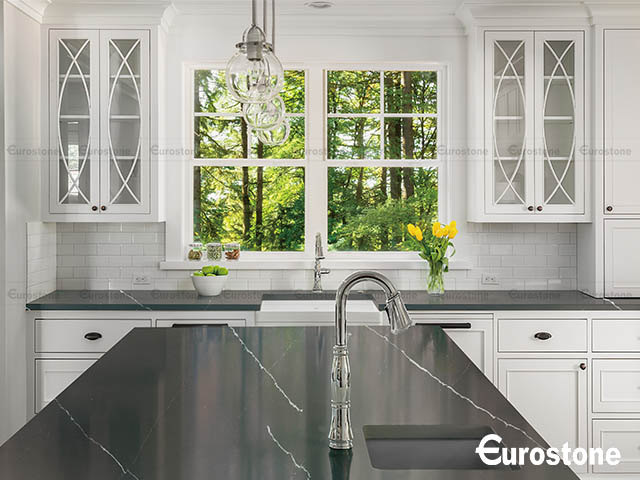 Quartz is a man-made material that is engineered to resemble a wide variety of natural stone products with the dramatic sparkles of marble and granite or the delicate swirling textures of travertine. Here are some simple care guidelines to help you keep your quartz countertops as stunning as the first day of installation:
Daily cleaning: You need to know how to keep the countertop clean and hygienic. Quartz countertops are a completely non-porous surface, so liquids and stains won't seep into the surface. Therefore, you can use mild soap, such as dishwashing liquid with a soft cloth to wipe and rinse.
Do not use harsh chemicals to clean the surface: Strong chemicals are not recommended as they can react with the plastic and corrode the surface. For stubborn, dry, clumps of stain, you can safely let it soak under a damp towel until the dirt comes off.
Use a heating pad instead of placing hot pots and pans directly on the stovetop. Besides, use a cutting board to cut food instead of cutting directly on the counter.
Eurostone with many years of operation providing natural and artificial stones is proud to become the first choice of many customers. At Eurostone, we offer a wide variety of quartz stone for kitchen cabinets such as Calacatta, Carrara, Small Grain, Big Grain, Pure. All products are guaranteed to European standards, safe for users and the environment.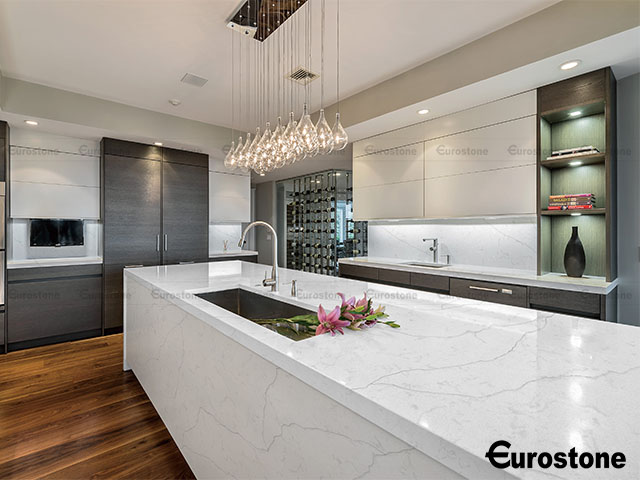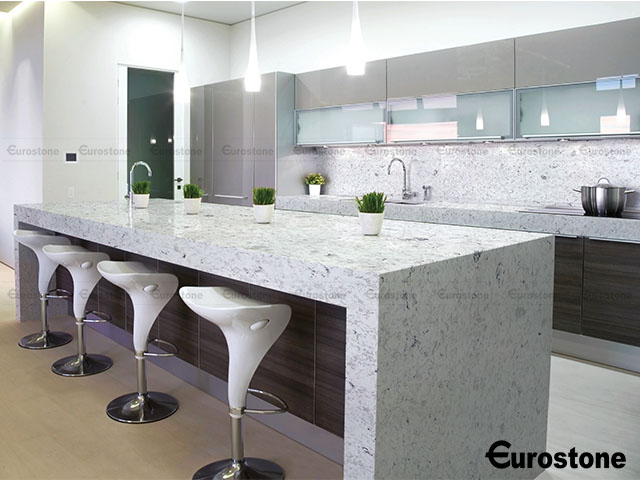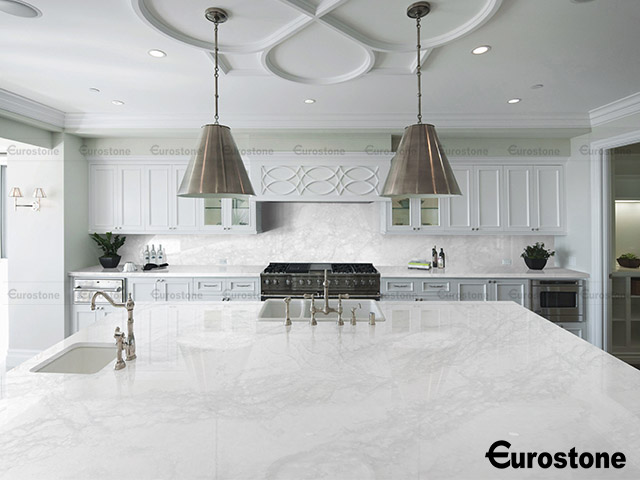 With a professional working process, Eurostone's dedicated staff brings top quality products and services to satisfy all customers. Please contact Eurostone via hotline +84 903393125, +84 903393759 today for detailed advice and great incentives.
See more:
The Address To Provide Beautiful Countertops Quartz
Summary Of Trending Table Quarzt Patterns In 2021
Synthesis Of The Latest Trending Vanity Top Quartz Models 2021